Flood Control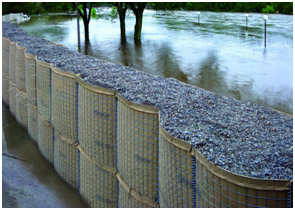 Surf-Tec Corporation and Hesco Bastion Ltd. are the owners of several patents and technological breakthroughs in flood-defense systems, erosion, force protection and blast mitigation.
Surf-Tec is pleased to announce it has received Approval by Natural Resources Canada - Explosives Regulatory Division for its Blast Containment Barricade Systems. Surf-Tec's Blast Containment Barricade Systems incorporate Hesco's Concertainer®  products for Type 4, Type 9 and Sea Containers ("SeaCans") explosives magazines, used for blast containment, safe storage and the security of energetic materials. Our systems permit the use of the NRCan Reduced QD Tables for D4CB and D7CB as a full Blast Containment Barricade solution against fragmentation (80j/cm2) and blast over pressure.
Over the past 15 years, Hesco Concertainer® have become the system of choice enabling it to be used across a wide variety of civil engineering applications. Typical applications include Land Reinforcement, Retaining Walls, Erosion Control, Ocean/Coastal Erosion, River and Canal Bank Stabilization. 
Controlling the forces of nature can be daunting and, at times, impossible. HESCO Concertainer® units are an innovative way to protect property and lives threatened by the forces of water. Traditional methods for controlling flood water are now being replaced increasingly by Concertainer® products.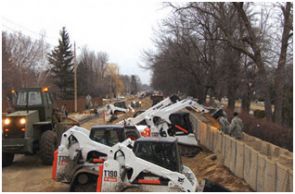 In the event of a flood warning, HESCO Concertainer®  units can be deployed quickly and easily to construct flood defenses without the need for specialist tradesmen or equipment – making it ideal for emergency response. 
Whether the increase in water level is gradual or due to sudden surge, Concertainer®  units and Flood line units provide a comprehensive solution to a wide range of flood-defense requirements.